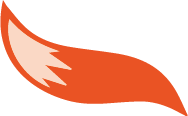 Our Products
---
Rocamboles
As far as garlic flavor goes, you just can't beat a Rocambole! Their strong, potent flavors make them the most popular garlic for cooking with. Their drawback is that they don't store quite as long as most other types of garlic.
---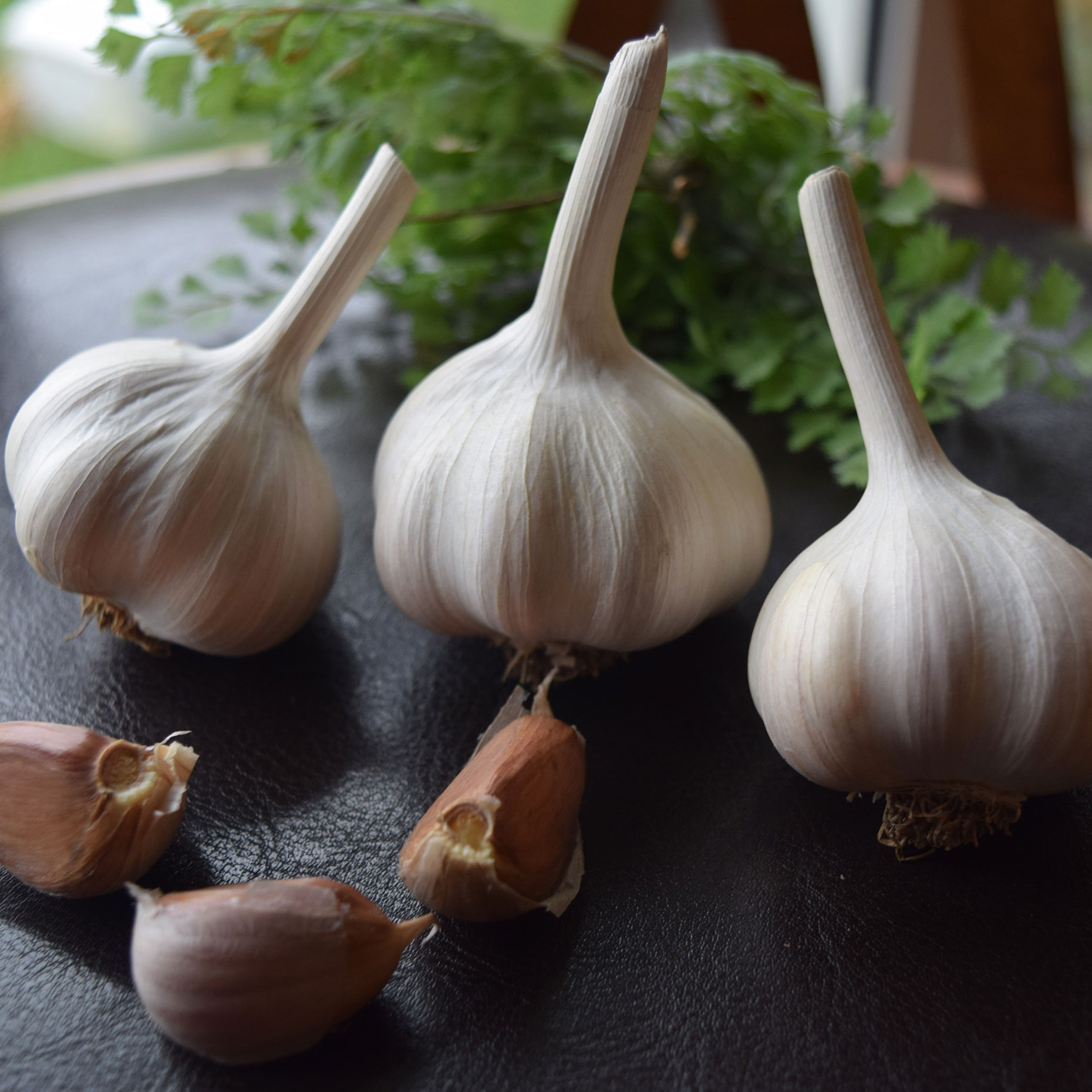 German Red
---
Hot and spicy. Full of complex flavor but there is no garlic aftertaste to it. Grows well in colder regions. Averages 8-15 cloves per bulb.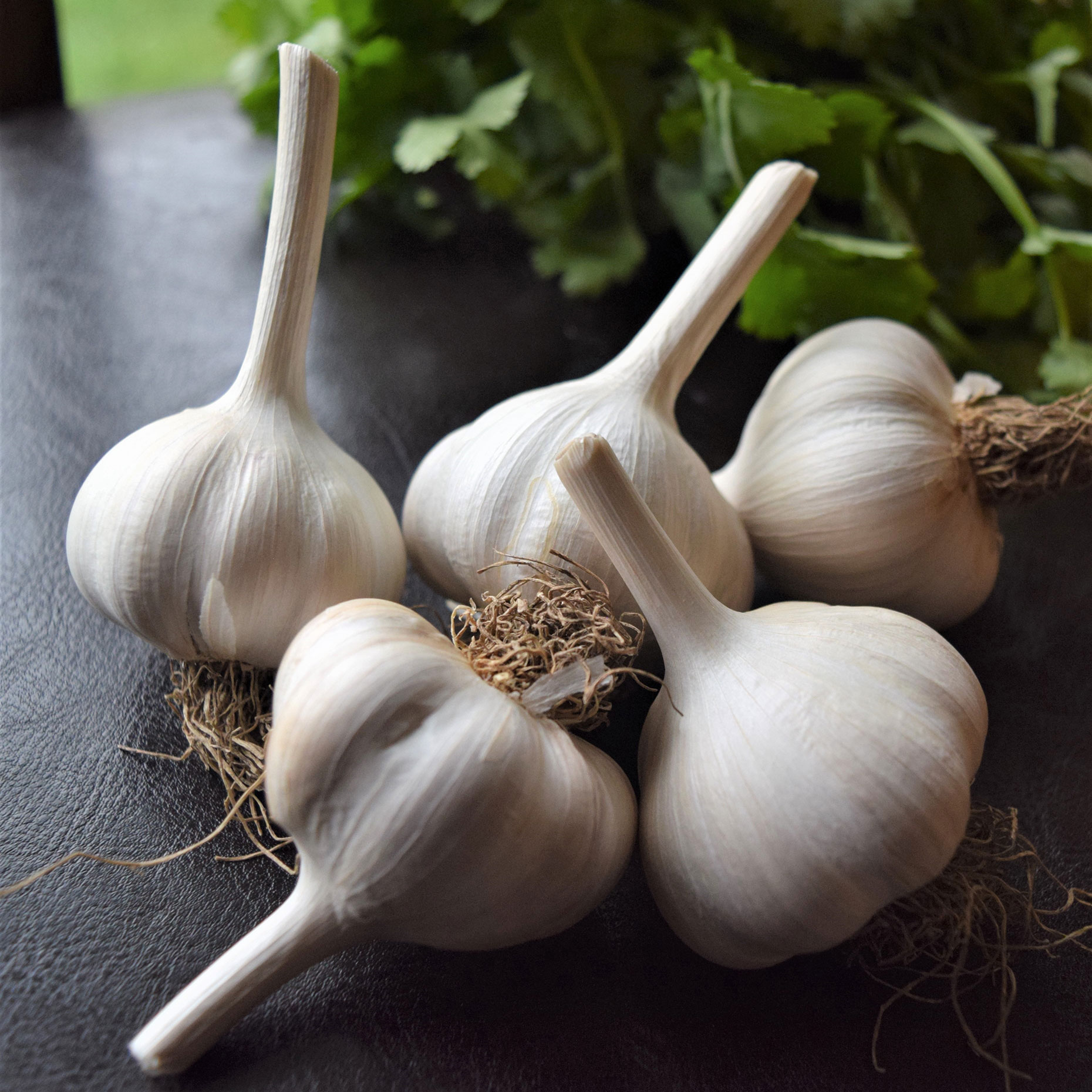 Killarney Red
---
Very bold and nutty flavor. Better equipped to growing in wet conditions than most other varieties. Easy to peel with loose skins so it has a shorter storage life of 2-3 months. Averages 8-9 cloves per bulb. Hard to find variety.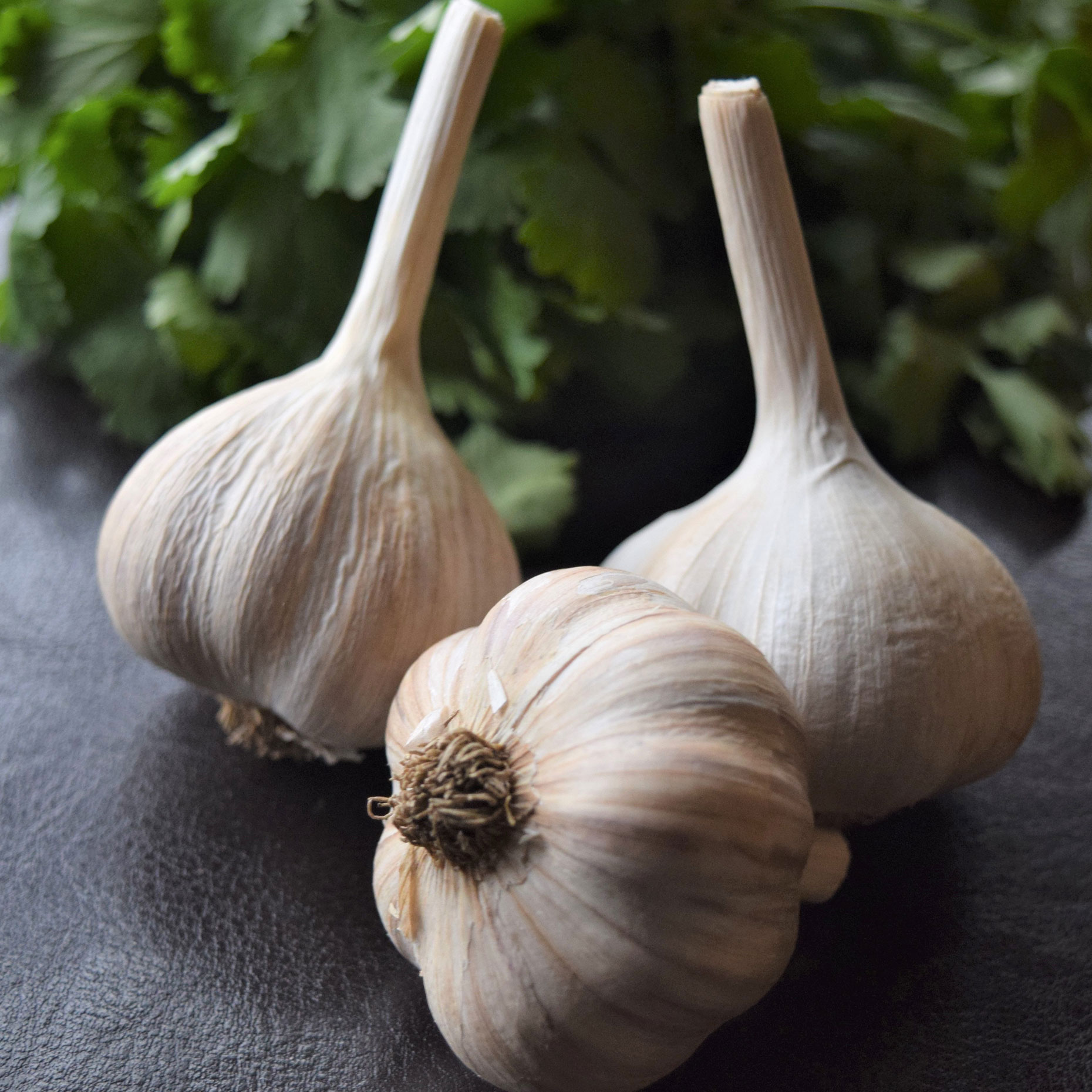 Penn Wonder
---
Robust flavor. Cold hardy. Shorter storage life. Averages 6-12 cloves per bulb.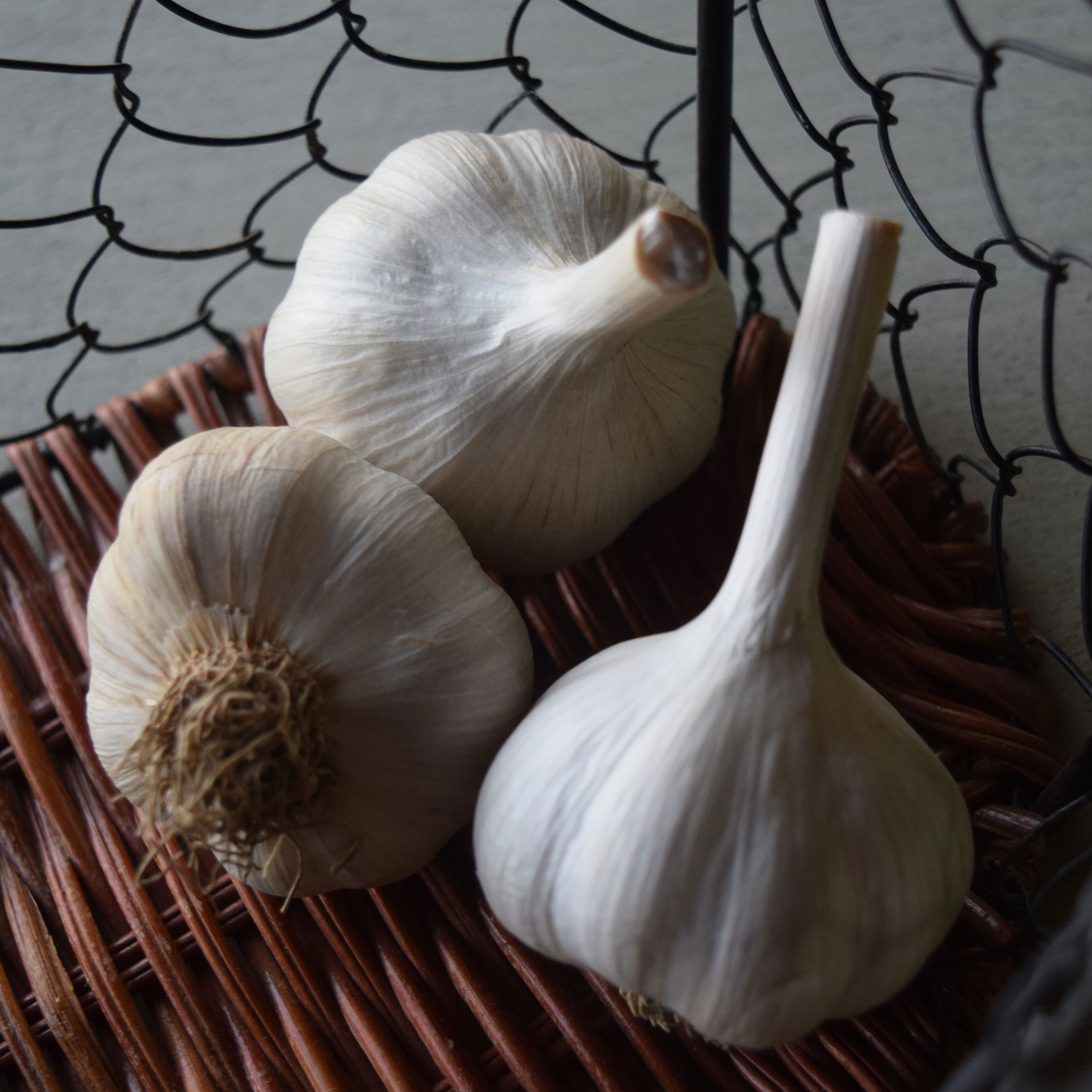 Spanish Roja
---
Full-flavored, best described as "true" garlic. Pleasantly hot and spicy. Roasts well. Produces large bulbs. Averages 8-10 cloves per bulb.
Marbled Purple Stripe
Beautiful looking garlics that are becoming more popular every year due to their consistency in bulb size and shape as well as clove size. Often times are medium hot to hot, and are fantastic roasted! Slightly less potent than Rocamboles, Marbled Purple Stripes usually store for much longer.
---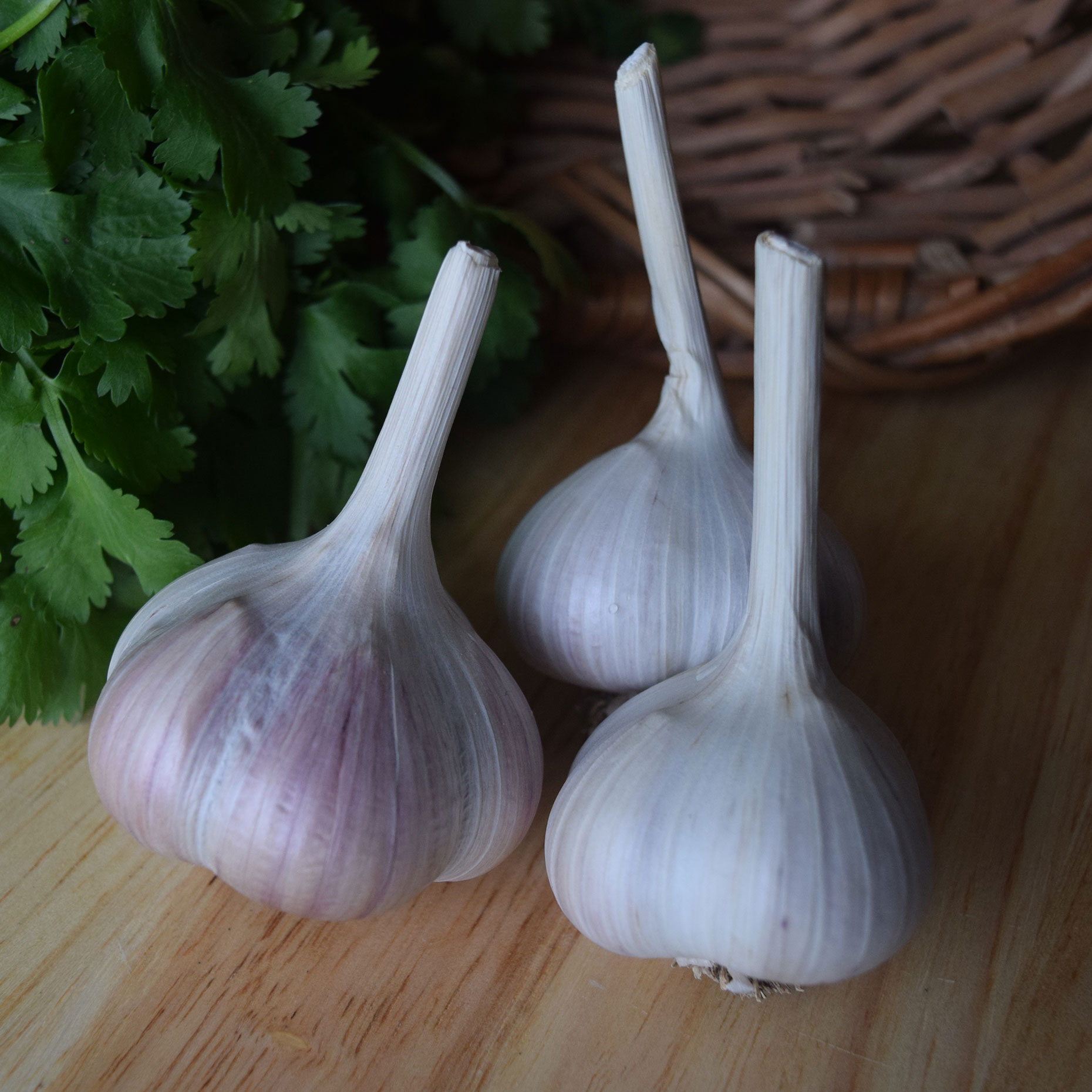 Bogatyr
---
Reputed to be one of the spiciest garlics. Long lasting flavor and hot. Storage life is 7-8 months. Averages 5-7 large cloves per bulb.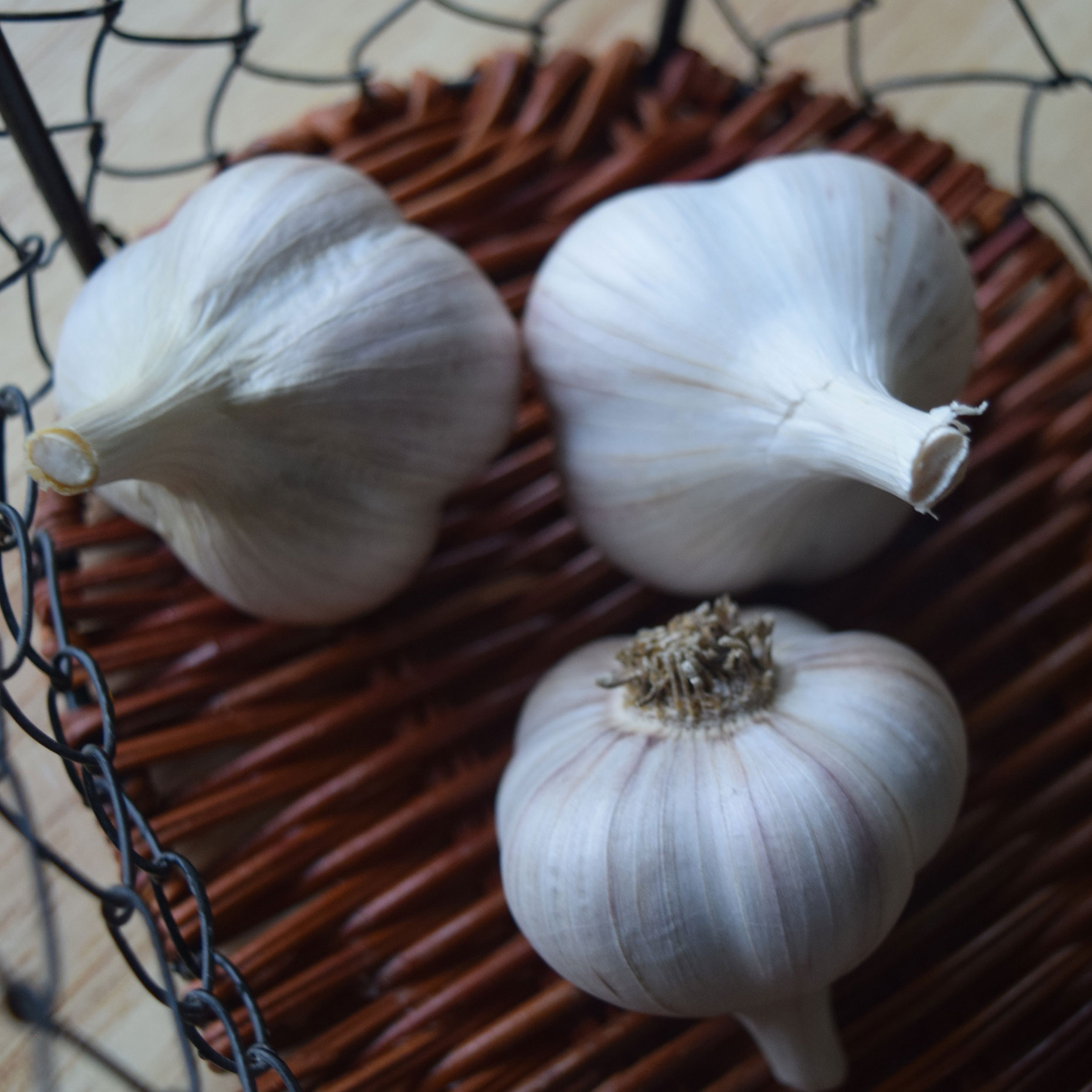 Metechi
---
Fiery strong flavor. Stores well. Averages 4-7 large cloves per bulb.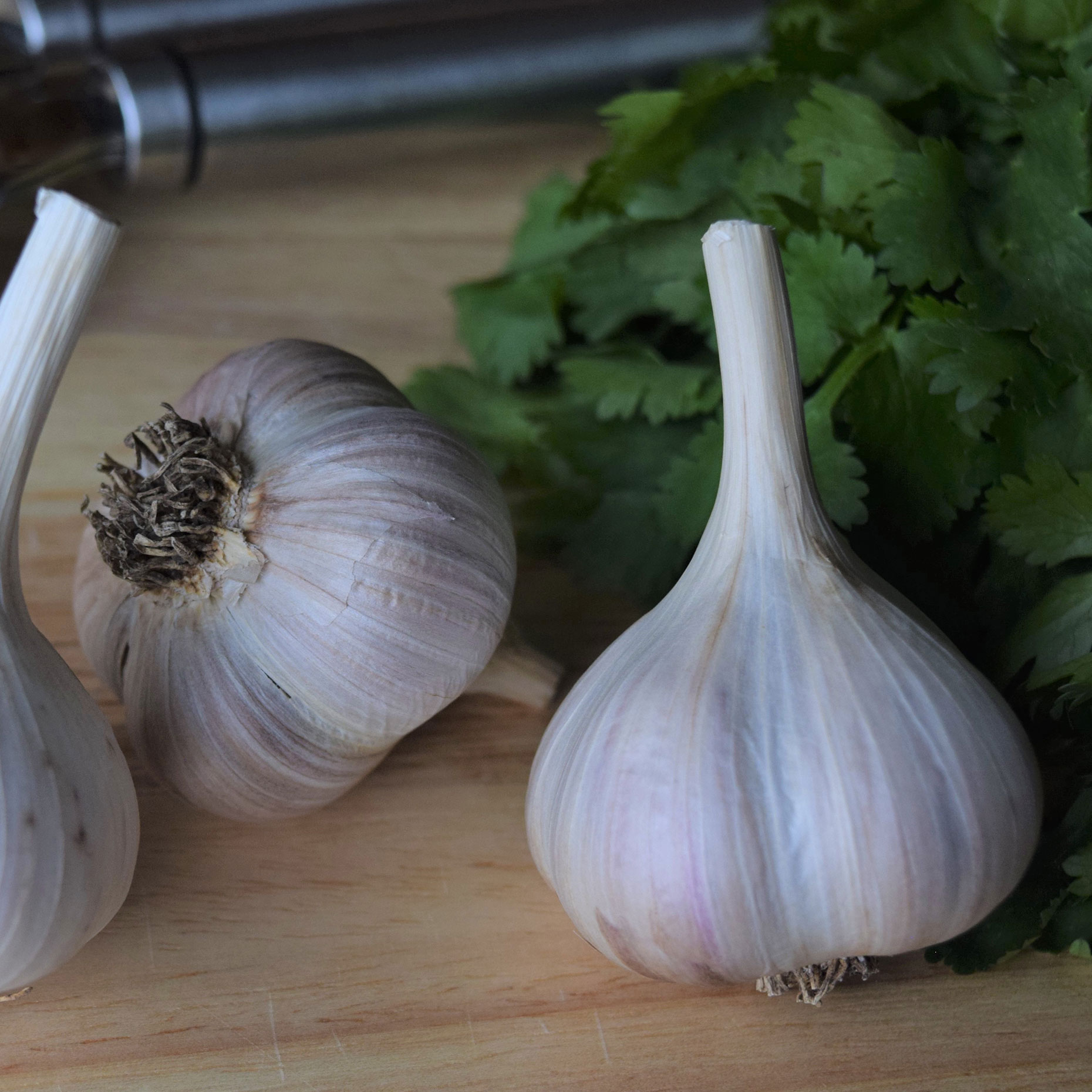 Estonian Red
---
Mild, well-rounded flavor. Has long storage life. This variety is hard to find.Consistently produces big bulbs in cold or warm climates. Averages 5-6 large cloves per bulb.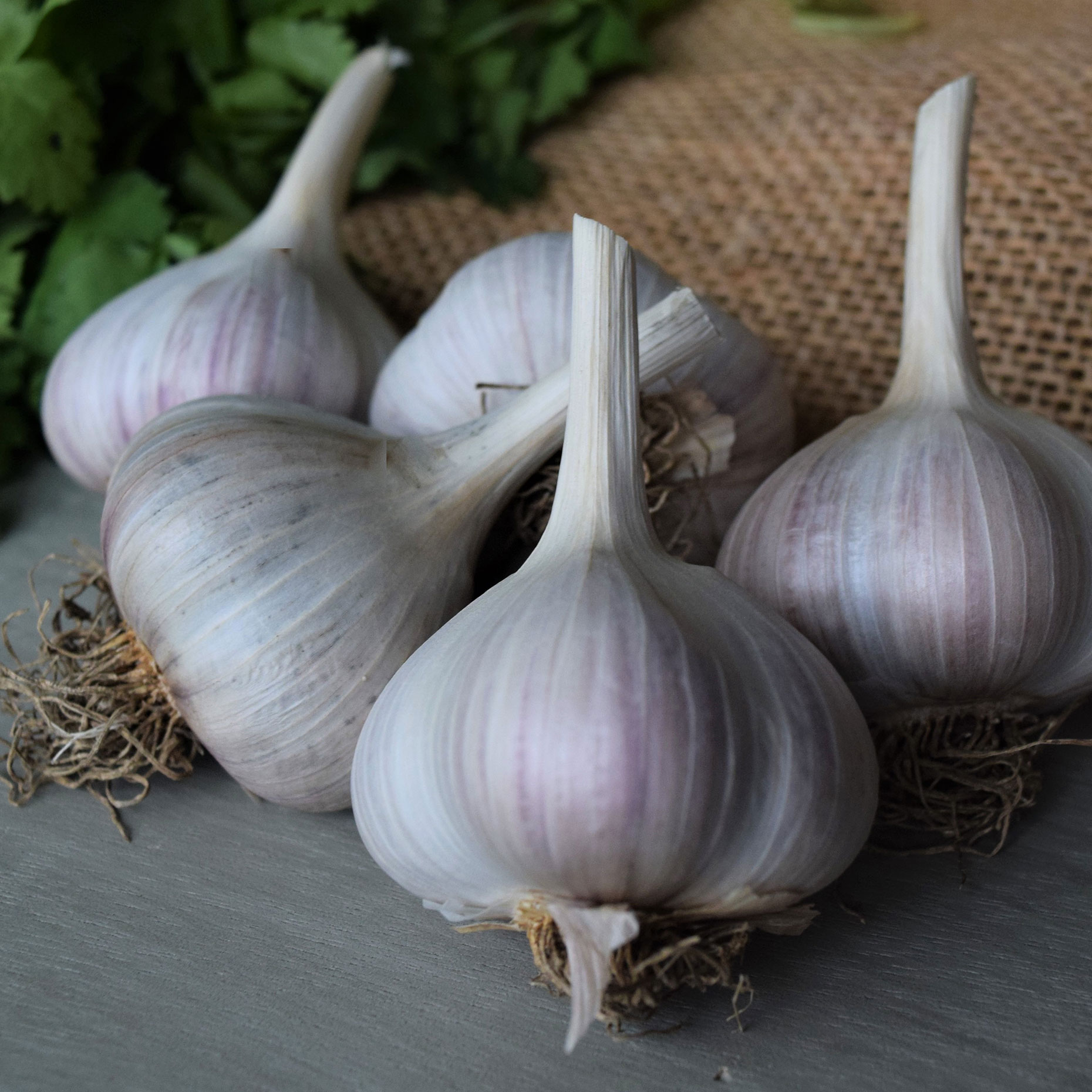 Siberian
---
If you like real garlic flavor but are not a fan of the spiciness that comes with a lot of hardneck garlics, Siberian could be for you! Known as one of the more mild Marbled Purple Stripes, it is delicious and stores for a long time.
Porcelain
Looking at the cleaned bulbs it is easy to see why these are called Porcelains. Most porcelains are strongly flavored and can be spicy both raw and cooked. In addition, these are some of the longest storing of all hardneck garlics.
---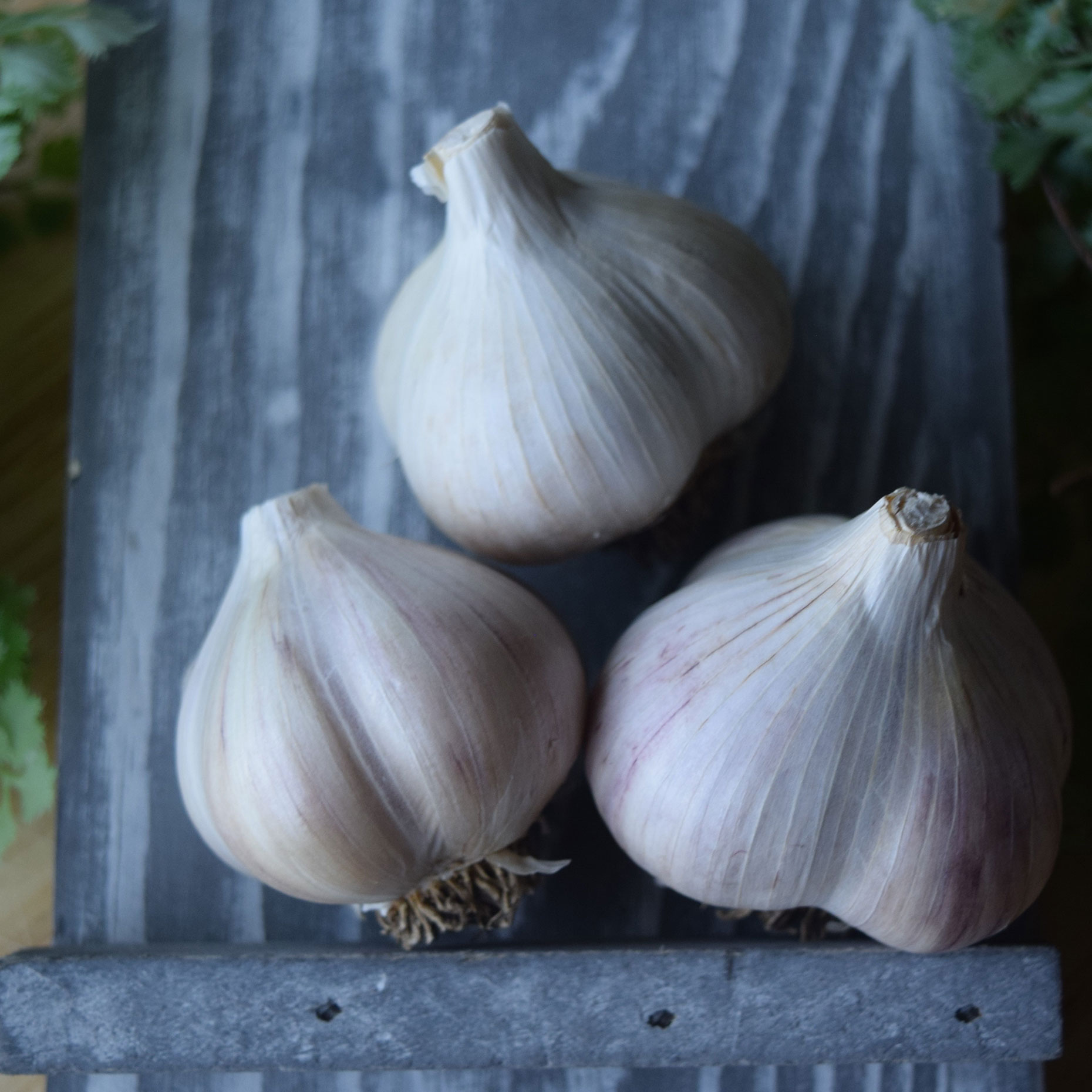 Music
---
Rich, aromatic flavor. Hot and sweet. Produces large bulbs. Stores 6-12 months. Cold tolerant. Averages 4-6 cloves per bulb. Great "go-to" for first time growers. Hardy and productive variety.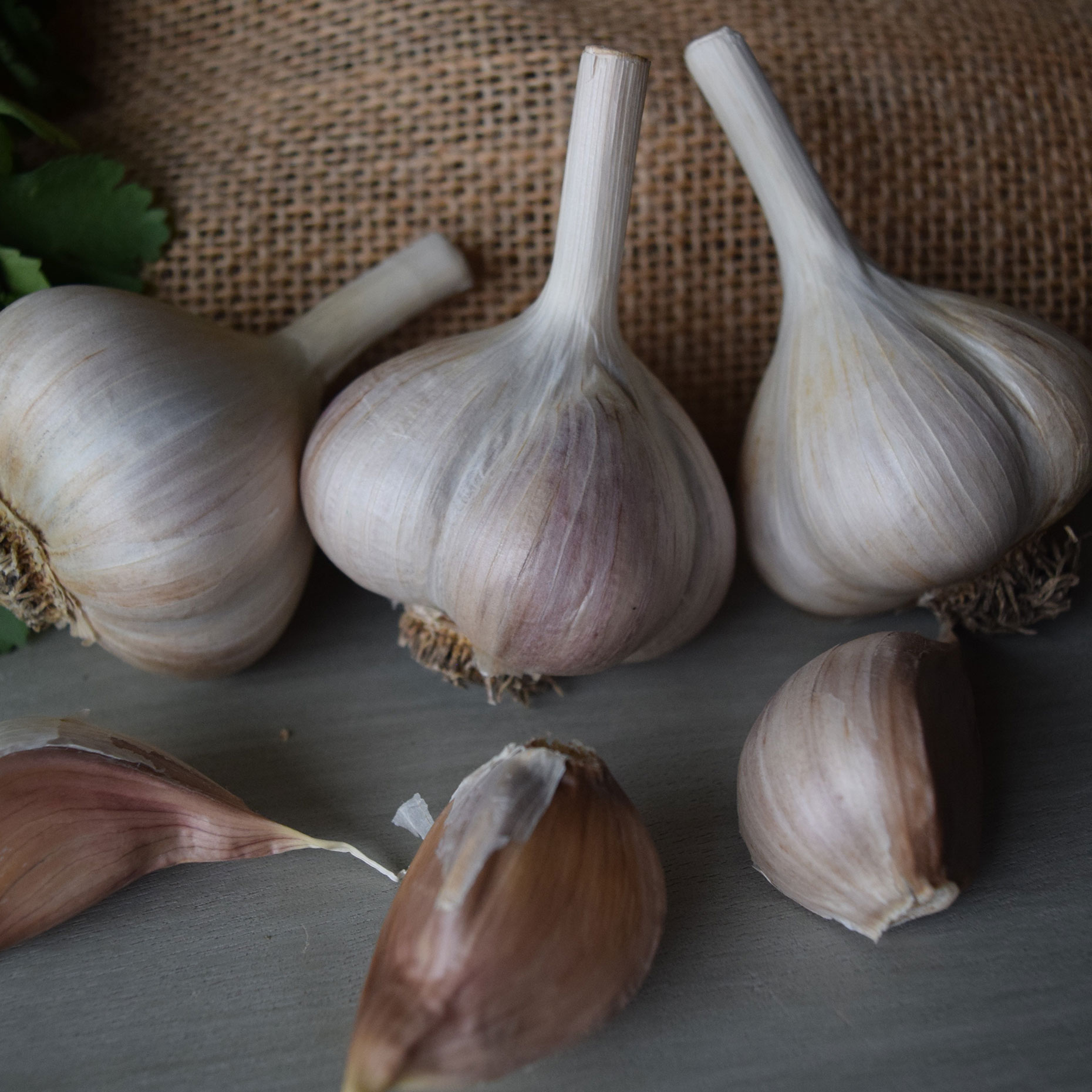 Romanian Red
---
Strong raw garlic flavor that is medium hot. Roasts well. Averages 4-5 cloves per bulb.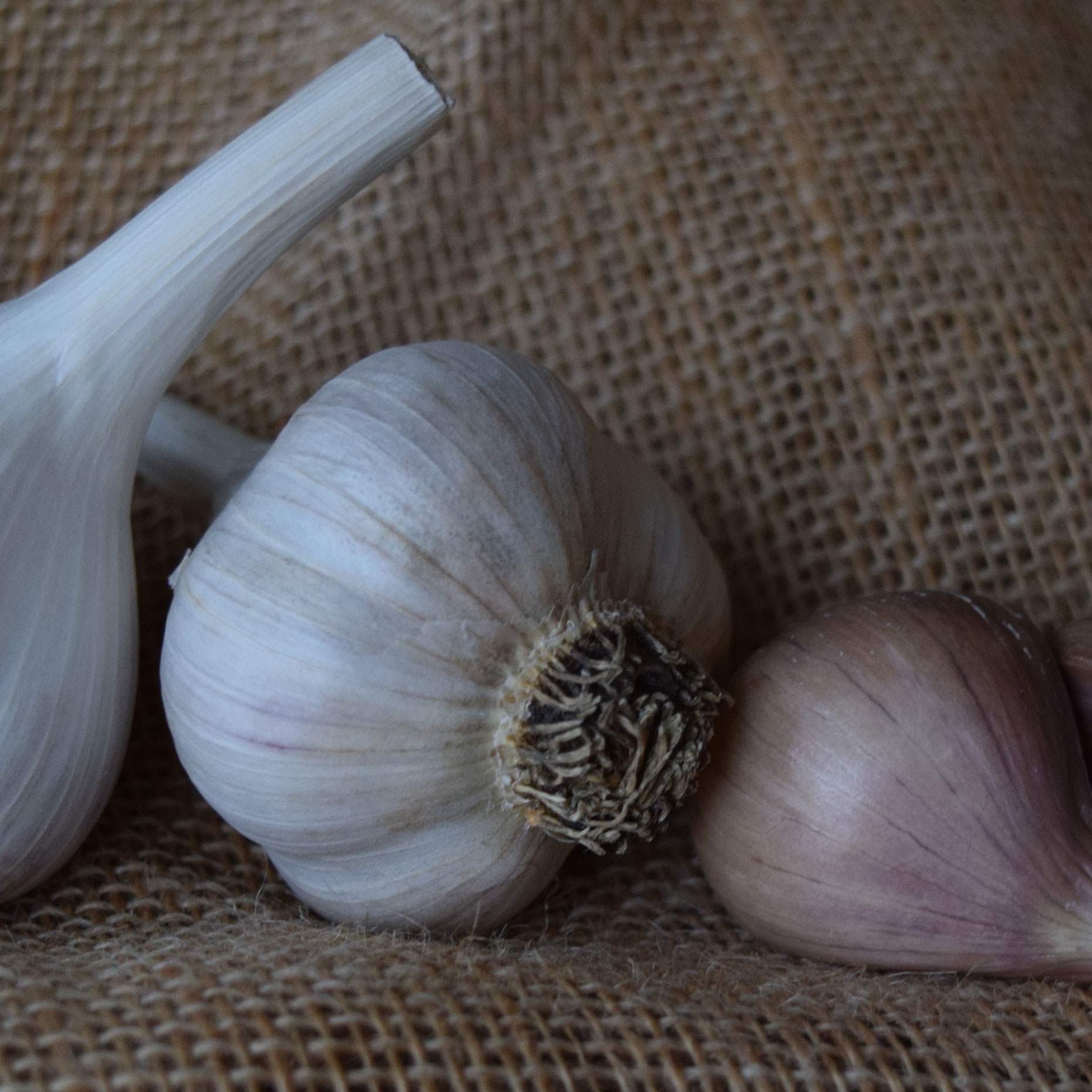 Montana Zemo
---
Robust, hot and spicy. Grows well. Stores 5-6 months.
Purple Stripe
An average storing bulb and if you like the purple coloring in bulbs, you will likely consider these the most beautiful of all garlics. In addition, when baked or roasted, these are considered to be the sweetest of all hardneck garlics.
---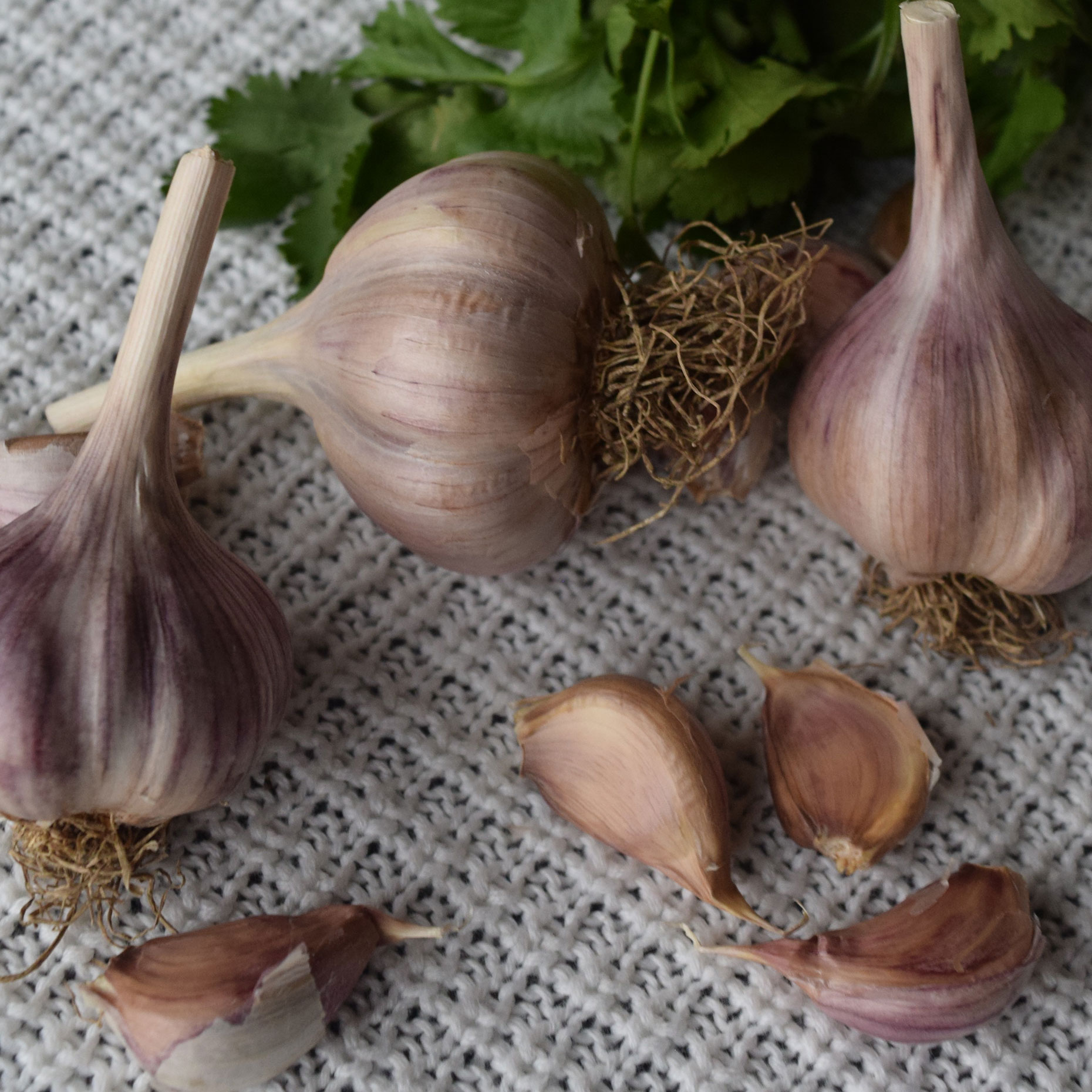 Chesnok Red
---
Medium hot flavor that preserves its flavor when cooked. Mellow aftertaste. Culinary favorite for roasting and baking. 4-6 months storage life. Averages 10-15 cloves per bulb.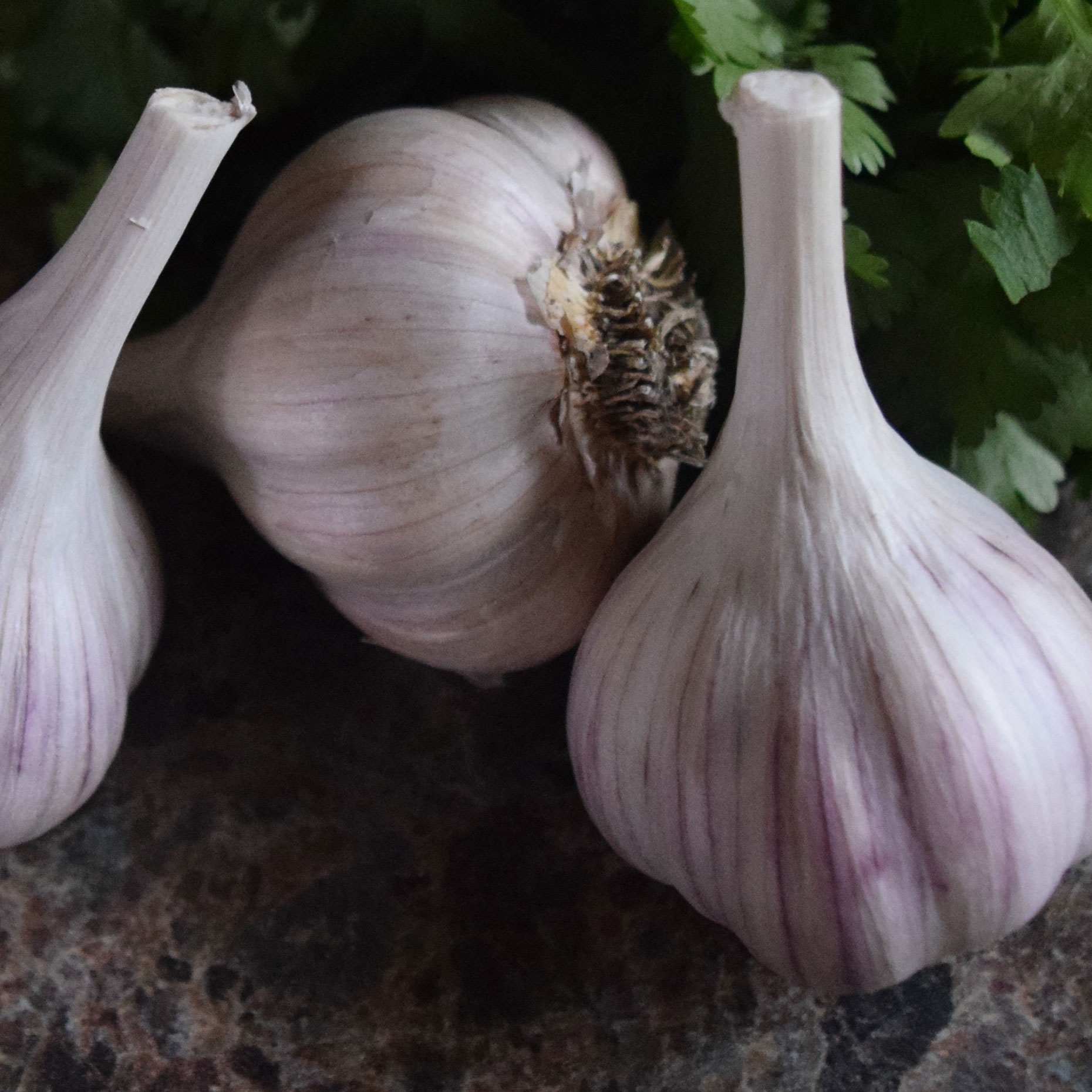 Persian Star
---
Rich, elegant medium hot flavor. Superior all-around garlic. Clear white outer skin with purple streaked inner wrappers. Produces large bulbs. 5-6 months of storage life. Averages 6-8 cloves per bulb.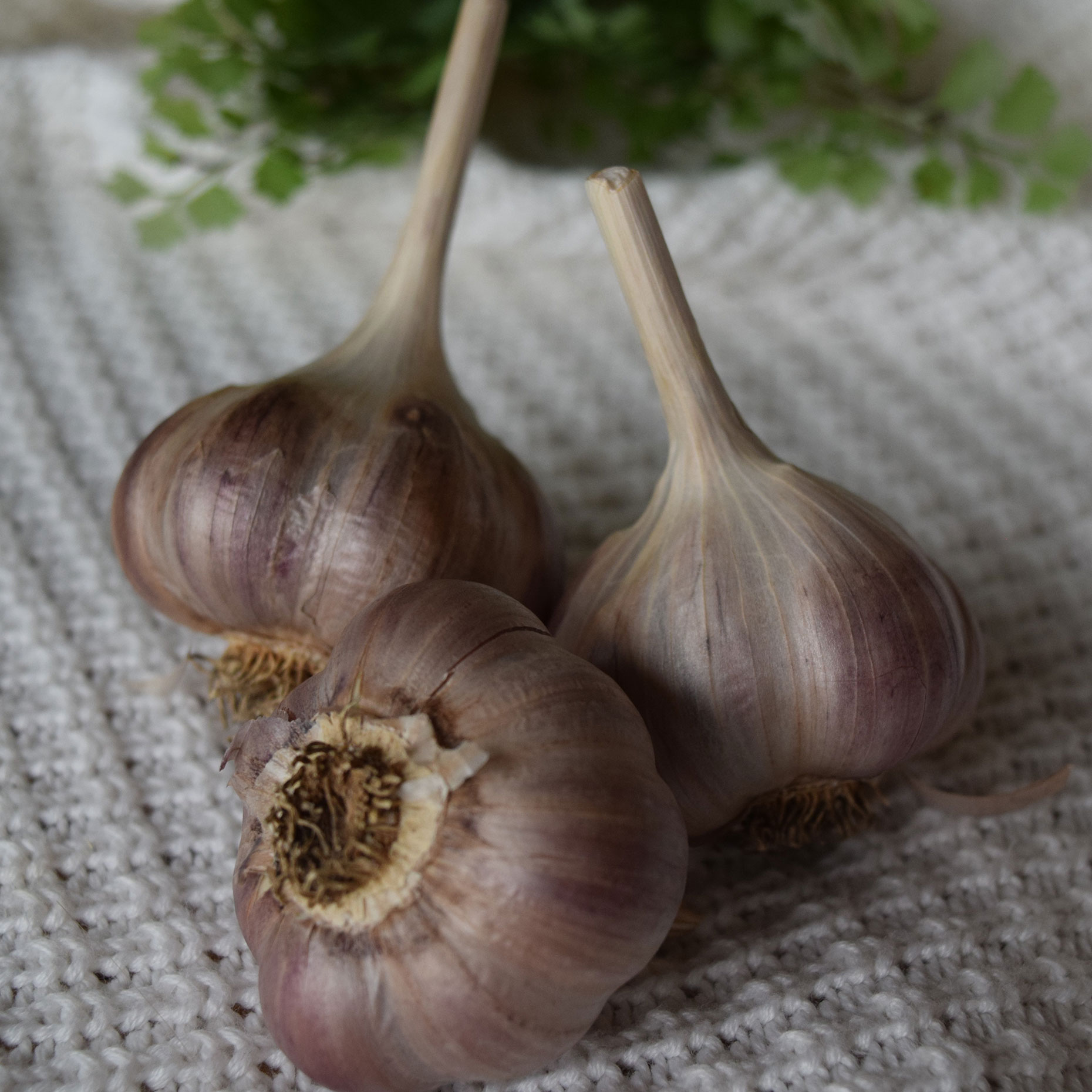 Purple Glazer
---
Rich medium flavor with a hint of sweetness. Great for roasting and baking. Deep purple striped skin. Storage life is 6-8 months due to tight inner wrappers. Averages 6-10 cloves per bulb.